Welcome!
Imosaic is a set of tools for producing mosaics of images. Currently we are developing 2 tools that achieve this task:
Imosaic is a freeware multiplatform photo mosaic software application: it permits to create databases of images and then use them to compose artistic photo-mosaics (see below for a screenshot example)
ImosaicWeb will be a web application that will permit to create photo mosaics using a database of categorized images. (coming soon...)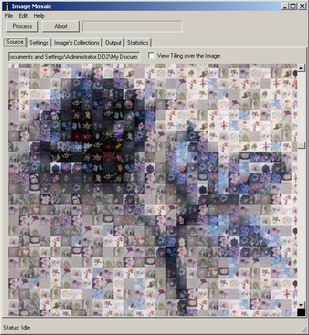 News
11-01-2006: Imosaic beta 0.9.4 released, including linux package. Go to the downloads page to try it.
4-10-2004: Imosaic beta 0.9.1b released. This is only a bug-fix release
4-9-2004: site online. Imosaic beta 0.9.0 released.